19 November 2018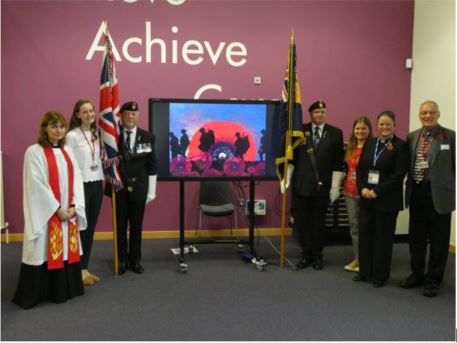 Photograph shows from left to right: Rev. Helen Houston (School Chaplain, St. George's School), Lizzie Haydon (Youth Worker), Bob Whitehill (standard bearer, Blackpool Royal British Legion), Ian Tomlinson (standard bearer, Blackpool Royal British Legion), Aimee Bland (Blackpool Ministerial Experience Scheme participant), Rev. Linda Tomkinson (Minister Mereside Church) and Angus Macleod (Chair of Governors, St. George's School)
"Have you ever heard the sound of gunfire or the noise that's made when a bomb goes off?" This was the challenging question posed by Rev. Linda Tomkinson, the Minister of Freedom Church, Mereside, as she preached during a Remembrance Service at St. George's School, A Church of England Academy, yesterday.
The congregation, made up of Year 10s, sat in silence as Rev. Tomkinson recalled the bombing which took place in her home town of Omagh in 1998. She'd been staying at her parents' house when she heard the explosion and later discovered that she'd known some of the victims personally.
Rev. Tomkinson, who is married to a former soldier and worked for the army herself, spoke passionately about the importance of working for peace in the world. She reminded the students of Jesus' words "Blessed are the peacemakers", and told them they didn't necessarily have to join the army to bring about peace, but could think about the choices they make each day and their impact on other people.
The Year group had been treated earlier in the day to a showing of the play 'Brothers in Arms' which has been touring the North West. The play, which was a sell out at this year's Edinburgh Fringe Festival, tells the story of the Chavasse twins, both committed Christians, who had been a part of the First World War effort. Students said that they found the play very moving and thought-provoking.
Two of the cast members from 'Brothers In Arms', Rev. James Gwyn-Thomas and Rev. Paul Critchley